Michelle Murrill of Southern View Media was honored to be interviewed by Access Magazine recently. Read the full article below!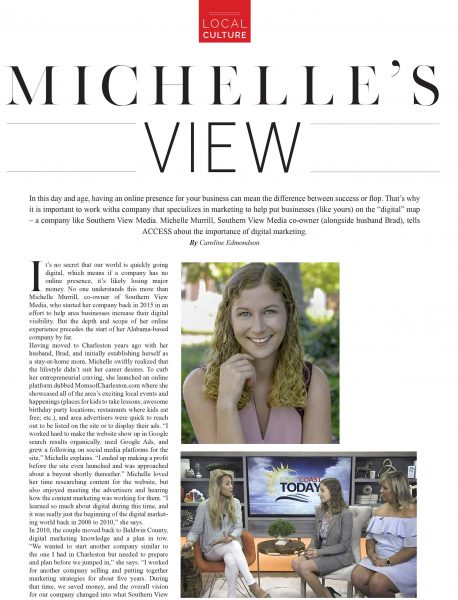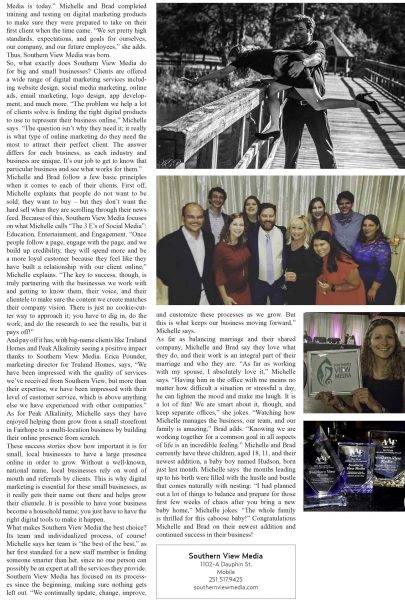 In this day and age, having an online presence for your business can mean the difference between success or flop. That's why it is important to work with a company that specializes in marketing to help put businesses (like yours) on the "digital" map – a company like Southern View Media. Michelle Murrill, Southern View Media co-owner (alongside husband Brad), tells ACCESS about the importance of digital marketing. 
By Caroline Edmondson
It's no secret that our world is quickly going digital, which means if a company has no online presence, it's likely losing major money. No one understands this more than Michelle Murrill, co-owner of Southern View Media, who started her company back in 2015 in an effort to help local area businesses increase their digital visibility. But the depth and scope of her online experience precedes the start of her Alabama-based company by far. 
Having moved to Charleston years ago with her husband, Brad, and initially establishing herself as a stay-at-home mom, Michelle swiftly realized that the lifestyle didn't suit her career desires. To curb her entrepreneurial craving, she launched an online platform dubbed MomsofCharleston.com where she showcased all of the area's exciting local events and happenings (places for kids to take lessons; awesome birthday party locations; restaurants where kids eat free; etc.), and area advertisers were quick to reach out to be listed on the site or to display their ads. "I worked hard to make the website show up in Google search results organically, used Google Ads, and grew a following on social media platforms for the site," Michelle explains. "I ended up making a profit before the site even launched and was approached about a buyout shortly thereafter." Michelle loved her time researching content for the website, but also enjoyed meeting the advertisers and hearing how the content marketing was working for them. "I learned so much about digital during this time, and it was really just the beginning of the digital marketing world back in 2008 to 2010," she says. 
In 2010, the couple moved back to Baldwin County, digital marketing knowledge and a plan in tow. "We wanted to start another company similar to the one I had in Charleston but needed to prepare and plan before we jumped in," she says. "I worked for another company selling and putting together marketing strategies for about five years. During that time, we saved money, and the overall vision for our company changed into what Southern View Media is today." Michelle and Brad completed training and testing on digital marketing products to make sure they were prepared to take on their first client when the time came. "We set pretty high standards, expectations, and goals for ourselves, our company, and our future employees," she adds. 
Thus, Southern View Media was born. 
So, what exactly does Southern View Media do for big and small businesses? Clients are offered a wide range of digital marketing services including website design, social media marketing, online ads, email marketing, logo design, app development, and much more. "The problem we help a lot of clients solve is finding the right digital products to use to represent their business online," Michelle says. "The question isn't why they need it; it really is what type of online marketing do they need the most to attract their perfect client. The answer differs for each business, as each industry and business are unique. It's our job to get to know that particular business and see what works for them." Michelle and Brad follow a few basic principles when it comes to each of their clients. First off, Michelle explains that people do not want to be sold; they want to buy – but they don't want the hard sell when they are scrolling through their news feed. Because of this, Southern View Media focuses on what Michelle calls "The 3 E's of Social Media": Education, Entertainment, and Engagement. "Once people follow a page, engage with the page, and we build up credibility, they will spend more and be a more loyal customer because they feel like they have built a relationship with our client online," Michelle explains. "The key to success, though, is truly partnering with the businesses we work with and getting to know them, their voice, and their clientele to make sure the content we create matches their company vision. There is just no cookie-cutter way to approach it; you have to dig in, do the work, and do the research to see the results, but it pays off!" 
And pay off it has, with big-name clients like Truland Homes and Peak Alkalinity seeing a positive impact thanks to Southern View Media. Erica Pounder, marketing director for Truland Homes, says, "We have been impressed with the quality of services we've received from Southern View, but more than their expertise, we have been impressed with their level of customer service, which is above anything else we have experienced with other companies." As for Peak Alkalinity, Michelle says they have enjoyed helping them grow from a small storefront in Fairhope to a multi-location business by building their online presence from scratch. 
These success stories show how important it is for small, local businesses to have a large presence online in order to grow. Without a well-known, national name, local businesses rely on word of mouth and referrals by clients. This is why digital marketing is essential for these small businesses, as it really gets their name out there and helps grow their clientele. It is possible to have your business become a household name; you just have to have the right digital tools to make it happen. 
What makes Southern View Media the best choice? Its team and individualized process, of course! Michelle says her team is "the best of the best," as her first standard for a new staff member is finding someone smarter than her, since no one person can possibly be an expert at all the services they provide. Southern View Media has focused on its processes since the beginning, making sure nothing gets left out. "We continually update, change, improve, and customize these processes as we grow. But this is what keeps our business moving forward," Michelle says. 
As far as balancing marriage and their shared company, Michelle and Brad say they love what they do, and their work is an integral part of their marriage and who they are. "As far as working with my spouse, I absolutely love it," Michelle says. "Having him in the office with me means no matter how difficult a situation or stressful a day, he can lighten the mood and make me laugh. It is a lot of fun! We are smart about it, though, and keep separate offices," she jokes. "Watching how Michelle manages the business, our team, and our family is amazing," Brad adds. "Knowing we are working together for a common goal in all aspects of life is an incredible feeling." Michelle and Brad currently have three children, aged 18, 11, and their newest addition, a baby boy named Hudson, born just last month. Michelle says the months leading up to his birth were filled with the hustle and bustle that comes naturally with nesting: "I had planned out a lot of things to balance and prepare for those first few weeks of chaos after you bring a new baby home," Michelle jokes. "The whole family is thrilled for this caboose baby!" Congratulations Michelle and Brad on their newest addition and continued success in their business!